Each male massage is individually crafted so that your celebration is unique to yourself. I have been massaging men for 30 years I have never done the same massage twice. I am the Massage Master of London, each massage is individually crafted to your likes, needs and desires. I am fascinated by the fact that  touching another man can make me feel, so fantastic. I can clearly remember my first touch by another man. It was an experience that absolutely changed my life. I had stumbled upon what was missing in my life, the magick of being touched by another man. I was on a mission, and more than a quarter of a century latter, I still am. My massage is a celebration massage ritual that is deeply organic allowing you to experience a sensual combination of complete and repeated genital gratification. Learn how slow sensual simply breathing meditation combined with my Gay Massage 4 Straight Men can expand your full body pleasure. Repeated Edging to Prolonging orgasm to an eventual roar, a juddering, conscious ejaculation. I am doing some amazing work at the moment. 
Donation £120, Concessions £91 for any man who has had a previous Massage, or who has attended any of my HaPenis Massage Classes. To book your Male Massage Celebrations Session please call Mr Cox – 07974 805666 or email sebcox@hotmail.co.uk
I am a mature man who would describe myself as HaPenis. Like a shelter from a storm. A very shy, quite, calm man, with an infectious relaxing sexual energy.  I offer Lingam Massage Classes and 1-2-1 Personalised Massage celebration for gentle men in the City Of London, Ec1. I simple touch you with my big strong and extremely hot, gentle mature manly hands as I encouraged you to simply, breathe. Using deeply organic strokes, mixed with light masculine relaxing touch I massage you as you become aware of my physical proximity. Slower than slow, complete and repeated sensual genital massages to induce a magickal state of juddering screaming euphoria. Resulting in intense ejaculation, a deep relaxation, and a Zen Lingam that soothes your Mind Body & sHole. For me it's all about intention, my intention makes me unique. My intention is NOT to heal you; my intention is to celebrate you. The magick of a man's touch, guiding you to a sensual celebration of yourself.  Your Male Massage Celebrations in Central London (EC1) last about 90 minutes. I want every man to experience the amazing sensations that occur when he is massaged with loving masculine kindness. Pleas take a few moments to read my amazing massage reviews.  Mature Male Massage London, 10 minutes by bus from Tottenham Court Road, and New Oxford Street. Mr Cox – 07974 805666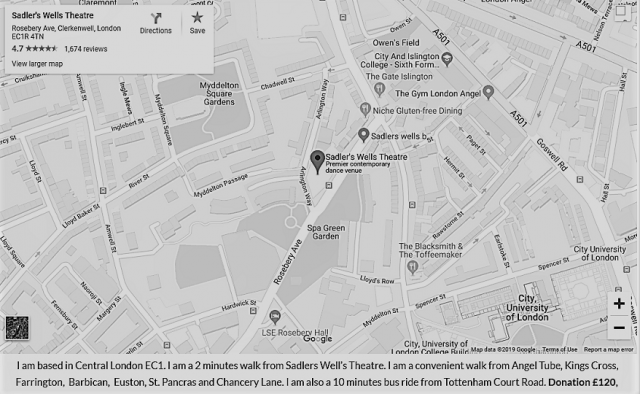 There is touch and nothing besides touch to make a connection. A simple touch with my big manly warm hands on your back as I encouraged you to simply breathe deeply and slowly. Using deeply relaxing strokes, mixed with light masculine touch I slowly massage you as you become aware of my physical proximity.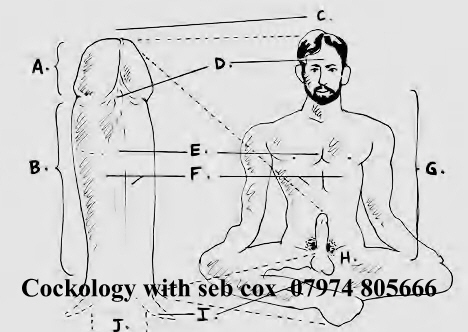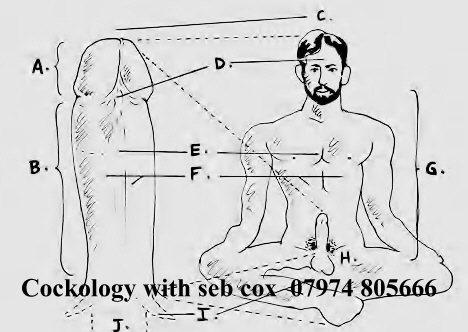 Experience an awakening, a deeply nurturing massage by another man. After years of striving to give pleasure, isn't it your turn to be nurtured. Every massage I do is unique. I work from a extraordinarily comfortable massage table so men of all ages, shapes and sizes, straight, gay, bisexual and bi curious men are all welcome. My private mystical studio apartment is warm, inviting and relaxing. It features my art, candles, aroma, colour, and music.From the moment you enter the surroundings will begin to soothe your spirit. My pioneering celebrations offers all men, regardless of sexual orientation or sexual history, the opportunity to reclaim and reawaken the spiritual dimension of their masculinity. I offers a daddy bear service, where you can rest, maybe sleep a little, or just relax, while you are hugged, massaged, and spiritually cuddled. I am based in Central London, very close to Sadler's Wells Theatre(EC1), a convenient walk from Angel Tube, Kings Cross, Farrington,  Barbican,  Euston, St. Pancras and Chancery Lane. I am also a 10 minutes bus ride from Tottenham Court Road. Click here o read my amazing reviews.
Donation £120, Concessions £91 for any man who has had a previous Massage, or who has attended any of my HaPenis Massage Classes, or any man on a low income. To make an appointment text or call 07974 805666 or email sebcox@hotmail.co.uk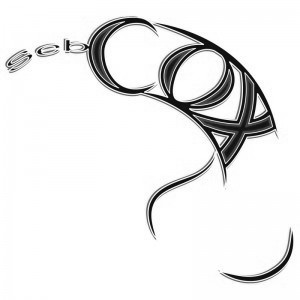 DISCOVER THE DEEPEST RELAXATION OF YOUR LIFE WITH A MATURE MALE MASSEUR WHO HAS A GREAT LOVE AND A DEEP PASSION FOR HIS WORK. FRIENDLY RELAXED SERVICE. I START BY GIVING YOU A FULL BODY SENSUAL AND EROTIC RUBDOWN. EXPERIENCE AROUSAL THAT CAN TAKE YOU TO NEW LEVELS, PERINEUM MASSAGE, GENTLE EXTERNAL PROSTATE REFLEXOLOGY, SEX MAGICK, EROTIC BREATHING RHYTHMS, PROLONGED CONSCIOUS EJACULATION AND AN EXTREMELY DEEP SPIRITUAL ORGASM. DURING YOUR MASSAGED YOU WILL FEEL EROTIC ENERGY RISE AND MOVE THROUGHOUT YOUR BODY. I COACH SIMPLE AND GENTLE BREATHING EXERCISES; YOU WILL BE ENCOURAGED TO BE AWARE OF ALL YOUR SENSUAL ZONES. WHAT MAKES MY MALE MASSAGE IN LONDON UNIQUE IS MY INTENTION. A MALE TOUCH THAT IS AMAZING, MASSAGE TO CELEBRATE YOU, TO A DEEPLY NURTURING AND SPIRITUAL EJACULATION. AN EJACULATION THAT WILL CONNECT YOU TO YOUR SACRED, SPIRITUAL AND SEXUAL SELF. A SENSUAL INVITATION TO CELEBRATE MASCULINITY FROM LONDON'S MOST SENSUAL MASSEUR FOR MEN. A BIG STOCKY MASSEUR LOOKING FOR MASCULINE MEN TO COME ROUND, DROP THEIR TROUSERS AND LET ME TAKE OVER! GAY. BISEXUAL AND STR8 MEN WELCOME. I AM DEEPLY COMMITTED TO CELEBRATING THE COMRADESHIP OF SHARED MASCULINITY THROUGH EROTIC TOUCH.THE BEST IN LONDON. TO MAKE AN APPOINTMENT E-MAIL SEBCOX@HOTMAIL.CO.UK OR CALL SEB COX 07974 805-666
"So glad I took the original step as you put me on the road to sexual self-esteem and for someone who thought he'd never make it, that's pretty good value".  Phil.
Outstandingly Brilliant Male Massage London Reviews City EC1
What a wonderful afternoon of pleasure. The course exceeded my expectations. I was also surprised that I enjoyed giving as much as I enjoyed receiving. I'm hooked. When can we do it all again. Terry
Male Massage in London with Mr. Cox.  Your 1st Male Massage London, with an intention of excellence, and an eventual feeling of deep ejaculation and spiritual calmness. I will gently lay you face down on the most comfortable massage table, and cover you with a sheet, to make you feel secure. – 07974 805666. To read my male massage testimonials, click here