The Most Slowest, Most Sensual Lingam Male Massages in London with Mr Cox. Strong attentive warm masculine hands. This lingam massage is a slow respectful full body sensual celebration for men in London.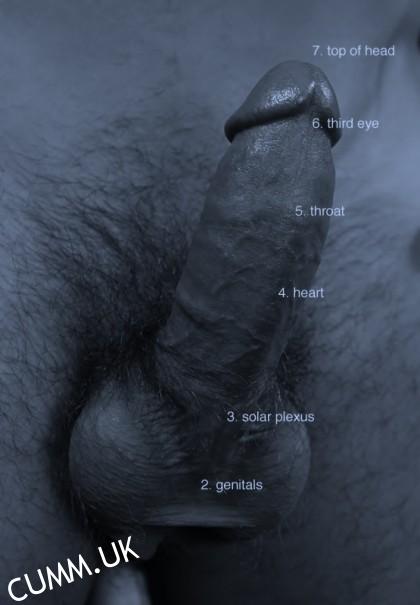 In ancient philosophy, all a man's goodness comes from his lingam(penis). So the massage involves very relaxed breathing and slow awakening of the lingam to create a magickal energy that we circulate to certain sacred points(called chakras) in his body. What i like about tantra, is it's simplicity. I simply touch with an intention to make you feel amazing. What makes My Lingam Massage London unique is that it is actually based on tantric philosophy. The orgasm resulting from lingam stimulation in conjunction with root chakra manipulation is a very famous tantrick blessing (trick). Amazing in the degree of intensity. The "after-glow" is something akin to a feeling of being in heaven. One step beyond a happy ending, as you shudder from inner spine outwards. Shishna Blessings, the most tantric Lingam Massage London, works with a series of 7 energy zone in your lingam. The blessing begins with a very light massage with my fingertips, culminating in a light tickling of a point between your arse and balls, your lingam's root chakra. I gradually move to a point just above your balls and gently vibrate your lingam's sex chakra, where all his goodness comes from. Moving slowly along to the lingam;s belly, this is where he deals with fear, Gently moving your tantric energy up through the heart chakra, throat chakra, to a point just below your frenulum, your third eye, this sacred wisdom point is gently vibrating into a lingam cuddle, using the palm of my hand to hug the lingam's crown chakra his connect to the universe, the spiritual world. In your own time I bring the energy from the universe down, through his third eye, through his throat chakra, his heart chakra, belly sex and root chakra. Welcome to the wonderful world of lingam massage. Seb Cox is a currently practicing homosexual masseur for heterosexual men in Central London with big strong hands and a magickal tool to delight your body, mind and spirit. Mr. Cox will help you discover how lingam massage London can bring you to new levels of sacred pleasure, connecting your mind, body and spirit, focused on exploring profound Lingam Massage Pleasure. Based in Central London, 25 minutes walk from Tottenham Court Road, W1. To make an appointment for your  Lingam Massage London call Seb Cox on 07974 805666 or email sebcox@hotmail.co.uk
Seb thanx 4 massage, I feel gr8 today, cock seems thicker and increased sensitive v glad to have experienced ur therapy! B
Your lingam has a mind of its own. I slowly awaken each millimetre. I simultaneously tickle your perineum while whispering to your  balls. This raises the energy through your whole body. This enables a connection to greater pleasure. I then take you on a sensual journey, as you simply breathe and enjoy a kind of "out of cock body experience". Gentle Cock Massage and Meditation, repeated perineum tickling until your rosebud appears. During the ritual I anoint the entire shaft of your magnificent cock with warm oil to help make the actions easier and smoother. Experience the pleasure and relaxation of the best cock massage in London from a mature, masculine, masseur who has an exceptional touch and extraordinary lingam massage techniques. During the massage there will be times when the masseur's will invite you to hold and gently stroke his magick wand allowing you to fully relax. This intimate touch can really heighten your experience. Awaken to a liberated sexuality- a spiritual honesty that allowed your cock some loving touch. Based in Central London, 10 minutes by bus from Tottenham Court Road, and New Oxford Street. Book your Lingam Massage London now please call Seb Cox on 07974 805666 or email sebcox@hotmail.co.uk
The most important advice I can give to any-one who wants to give an amazing lingam massage is that the secret is in your intention. Your intention should be to celebrate the man's beautiful lingam, and not to make him ejaculate. You should encourage him to breathe deeply through out the ritual, huge big deep breathe right down into his tummy, as you breathe in unison with him. Put one hand on his tummy to feel him breathe as you encourage him to accept pleasure, surrender, and allow stillness and patience. Now pour a good dollop of massage oil onto his lingam and balls. Rub your hands together and make sure they are lovely and warm. Begin the ritual by gently massaging his legs as wide apart as is comfortable for him. Then very slowly bring the finger tips of one hand into his perineum area (between his arsehole and balls). Gently massage the area with deep circular motions, 81 time clockwise, and then 81 times anti-clockwise. Use your other hand to make exactly the same motions on his head (crown). Then very slowly and gradually bring both hands down towards his balls. Cup your fingers under the right testicle with your right hand and the left testicle under your left hand. Apply 81 circular motions with your thumbs on the upper side of the testicles first in one direction (clockwise) then reversed (anti clockwise). You can then continue applying 81 circular motions with your fingers to the underside of the testicles. Very lightly tap his balls with your three middle fingers. Pay attention to the music you are playing in the background. Tap those lovely balls to the rhythm. Hold the balls from the base with your thumb and index finger and gently pull them forward slightly and hold and relax, you will notice that his pelvic muscles will involuntary pull them back, as this happens pull them gently forward again. You could repeat this for several minutes. Gradually bring one hand onto his lingam and gently hold it. Gently pump it 81 times; the purpose of this is to pump energy into the head of the lingam. Use the tips of your fingers of your other hand to gently massage the area between his eyebrows (third eye). You're now ready to take the ritual to another level. It's time for you to relax and be artistic. Everyman's lingam is different, so there is no infinite guide from here. Your purpose is to gently massage every tiny mm of the man's lingam in equal proportions. If you feel the man is coming close to ejaculation move back to massaging his perineum area.

The Most Sensual Tantric Male Massages in London with Mr Cox. Award winning tantric male massage (Erotic Awards London 2003). Strong attentive warm masculine hands. Allow Mr.Cox to guide you to a mystical and fulfilling tantric male massage journey. Feel your sexual energy runs through your body. This is accompanied by an intense sensation of joy, a feeling of being deeply relaxed and and eventually ejaculated. Masculine, Gay, bisexual and heterosexual men welcome. The Tantric Male Massage Donation is £121. Award-winning massage (London Erotic Awards 2003). Read his amazing male massages review here. Each session concludes with a post climax cock chakra blessing, your most sensual, softest, slowest, tantric male ever! Mature & Experienced, Mr Cox 07974 805666 or email sebcox@hotmail.co.uk
Hi Seb, Now back home but still on cloud 9 thanks to you. Since my initiation into Tantra in your expert hands on Tuesday I have been walking on air. That really was an experience the like of which I have never experienced before. I am going to practice the techniques you taught me so that next time will be even more earth moving. During our session I literally thought I was going to explode due to the intense sensations you aroused in me!! You truly are a good, kind, considerate, understanding, nurturing and friendly person. A gentle man. Stephen On 14th June 2011