Very Happy Ending Massage for Men London. Mature and very experienced male masseur, London. I have a very beautiful cock, butt, my hands are my biggest sexual organ. Mr Cox – 07974 805666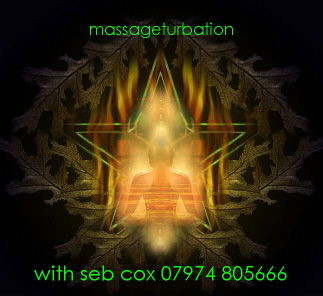 "Great massage, great hot bath. You are a bit like a shaman you know, a magick man, in the oldest sense.  You reach into the other world, the other hidden side of men, and pull out parts of themselves they hide away or don`t even know about. A shaman, as you probably know is someone who lives on the end of the real world in order to be closer to all the other types of worlds, who helps people find what they have lost. You said you are comfortable with the darker side of yourself and that is a great ability, most of us hide it away. Perhaps you help men reclaim that a little, and sticking your finger up their arses is a great way to get people to let go of their tightness!! Thanks for the gentle shove back into life. With respect and thanks." M. London

Dear Seb, I never thanked you for a delightful session in July. It was just what I needed and I've had a go at two of the things you suggested and that worked beautifully! All the best, H
A recent US study, which followed nearly 30,000 men over eight years, showed that those that ejaculated most frequently were significantly less likely to develop prostate cancer. The results confirm the results of a smaller Australian study revealed by New Scientist in July2003. Inthe latest study, the group with the highest lifetime average of ejaculation – 21 times per month – were a third less likely to develop the cancer than the reference group, who ejaculated four to seven times a month. Michael Leitzmann, at the National Cancer Institute inMaryland, and colleagues set out to test a long-held theory that suggested the opposite – that a higher ejaculation rate raises the risk of prostate cancer. "The good news is it is not related to an increased risk," he told New Scientist. In fact, it "may be associated with a lower risk." "It goes a long way to confirm the findings from our recent case-control study," says Graham Giles, who led the Australian study. He praises the study's large size – including about 1500 cases of prostate cancer. Furthermore, it was the first to begin by following thousands of healthy men. This rules out some of the biases which might be introduced by asking men diagnosed with prostate cancer to recall their sexual behaviour retrospectively.
Hi Seb, Just wanted to say thank you for the other day. I felt sexual, spiritual and the orgasm came from my soul, Thanks again, G On 3 Sep 2012
At the start of the study, the men filled in a history of their ejaculation frequency and then filled in further questionnaires every two years. Men of different ages varied in how often they ejaculated, so the team used a lifetime average for comparisons. Compared to the reference group who ejaculated four to seven times a month, "each increase of three ejaculations per week was associated with a 15 per cent decrease in the risk of prostate cancer", says Leitzmann. "More than 12 ejaculations per month would start conferring the benefit – on average every second day or so," he says. However, while the findings are statistically significant, Leitzmann remains cautious.
Have been to Seb and discovered a new world of senses and feels. I was extremely relaxed and totally abandoned to all the feelings around me. Steve
"I don't believe at this point our research would warrant suggesting men should alter their sexual behaviour in order to modify their risk." A further caveat is that the benefit of ejaculation was less clear in relation to the most dangerous, metastasising form of prostate cancer, compared to the organ-confined or slow-growing types. Leitzmann and Giles both agree that there are biologically plausible ways that ejaculating frequently might prevent prostate cancer. "Increased ejaculation may allow the prostate gland to clear itself of carcinogens or of materials that form a substrate for the development of carcinogens," Giles told New Scientist. Another theory is that frequent drainage of prostate fluid stops tiny crystalloid microcalcifications – which have been associated with prostate cancer – from forming in the prostate duct, says Leitzmann. Giles notes that neither study examines ejaculation during the teenage years – which may be a crucial factor. But he says: "Although much more research remains to be done, the take home message is that ejaculation is not harmful and very probably protective of prostatic health – and it feels good!"
Hello Seb, I came to you as a hetero young man who wanted to experience rosebud stimulation. You did a very good job, introduced me to your enemagura, and at the same time convinced me that getting turned on by anal stimulation was nothing to be ashamed of as a hetero man. All that was brilliant and I thank you again for being you and making it all such a wonderful, relaxing, normal, experience! Simon, 26
Commenting on the study, London based masseur and orgasm coach Mr Cox said "Now I know what goes on at colleges. The study is great, but, misses a couple of very serious points. What they don't take into consideration is the strength of ejaculation. The stronger the ejaculation, the better it is for the health of your prostate. It's not good enough just to encourage men to be wankers, we have to encourage them to become EXCELLENT, to stick their fingers up their arses, to get in tune with their prostate and to have orgasm that make them nearly pass out, physically. Then they, both the intellectuals and the wankers, will be ready for the slightly more advanced study, The Comradeship of Shared Masculinity
Very Happy Ending Massage for Men London. The size of your cock is not important in relation to the massage, it's more about the size of your orgasm. I have a very beautiful cock, butt, my hands are my biggest sexual organ. London Male Massage with Mr Cox – 07974 805666
Seb, I have just got home after seeing you for the first time this afternoon and I had to write to say thank you,  you really have opened me up as a sexual person. I have known how enjoyable massage can be from a woman but you really are 'the real thing'. I have never experienced an orgasm like that. Of course, I have known for years that I might like to try this but it also took me years to come to terms with the fear.  I think you have awakened the sacred whore in me. You truely are a beautiful person and I knew, that I could always trust you to help and guide me psychologically through the things I found tough – you were so skillful in guiding me and still stretching me physically and mentally that you gave me a wonderful experience and I am so glad that I have met you. I'm just desperately starting to look for an opportunity to come and see you again as soon as I can. I am also PROUD of myself – thanks to you. With best wishes and great repect Jay
To read my most recent reviews click here